THIS JUST IN! OCP releases We Should Glory, Volume 1, the new album by liturgical composer veterans Bob Hurd and Ken Canedo. Click here for info on OCP.org. 
From Mountains High was honored in 2019 by the Catholic Press Association, taking Third Place in the category of Liturgy. Click here for more info.
From Mountains High is now available electronically as a Kindle edition on Amazon! 
The reviews for my books are coming in! Click here to read the latest reviews from Worship magazine (NEW!), The Hymn (journal of the Hymn Society), The Call  online magazine, and Pastoral Music (journal of NPM).
New SONG OF THE WEEK: "See, I Make All Things New," a just released contemporary anthem based on the uplifting passage from Revelation chapter 21. 
OPEN YOUR HYMNAL: Interview on "Fly Like a Bird" with Zack Stachowski and Matt Reichert (scroll down)
New blog! "Interruptions and Distractions" This is one writer's daily approach to foster  creativity. 
BOOKS
Ken's Mater Dei radio interview on From Mountains High. CLICK HERE
It's refreshing for those of us in music ministry to know our roots and have a touchstone where we can return and reorient our ministry. Ken Canedo is one historian who chronicles our liturgical music path. From Mountains High resumes the narrative from Canedo's previous book, Keep the Fire Burning.  
-Tim McManus, Pastoral Music, November 2018
CLICK HERE to read book reviews.
JUST RELEASED! 
FROM MOUNTAINS HIGH  
Contemporary Catholic Music 1970-1985 
by Ken Canedo 
Decades don't start neatly. So, 1970 still sounded and smelled and looked like the 60s. An unpopular war continued in Vietnam, and draft cards were still being burned. But something was definitely in the air – an intangible assurance that broke through, as a Watergate-ridden White House eventually gave way to a born-again Christian president.  
Keep the Fire Burning was the story of the 1960s Folk Mass movement, but its scope ranged from the beginnings of the liturgical movement in the early 20th century through the era of copyright litigation in the late 1970s. From Mountains High picks up the story from the end of the Folk Mass period to the beginning of the modern era of Catholic music publishing in 1985. The decades overlap but the story always moves forward.  
This is the story of the coming of age of contemporary Catholic music. 
-from the Introduction   
Print edition available on AMAZON!  CLICK HERE
Digital edition now available in the Kindle store on AMAZON!  
I am honored to be the featured guest on the April 1, 2019 episode of the renowned OPEN YOUR HYMNAL podcast produced by Zack Stachowski and Matt Reichert. 
"Our Lenten journey continues with powerful personal witness from composer Ken Canedo. Join OYH hosts Zack Stachowski and Matt Reichert as they speak with Ken about his own return to the Church and how it led to the composition of one of his most beloved songs. They'll also speak about Ken's work chronicling the history of contemporary Catholic liturgical music, and Ken shares his experience as a person with hearing impairment. You won't want to miss it!
"So, please open your hymnal to 'Fly Like a Bird.'" 
CLICK HERE to listen to podcast.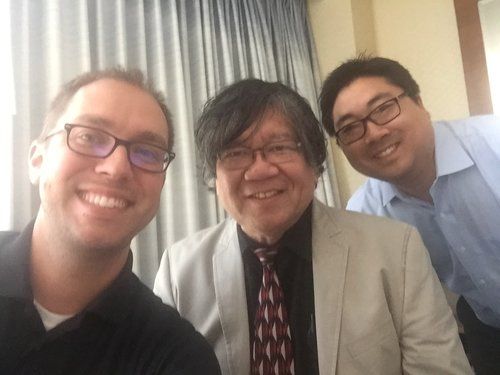 VIDEO: Snippet of Ken's From Mountains High workshop at NPM convention in Baltimore on July 11, 2018.