In June 2019, the Catholic Press Association bestowed its annual book awards.
FROM MOUNTAINS HIGH took Third Place honors in the category of Liturgy.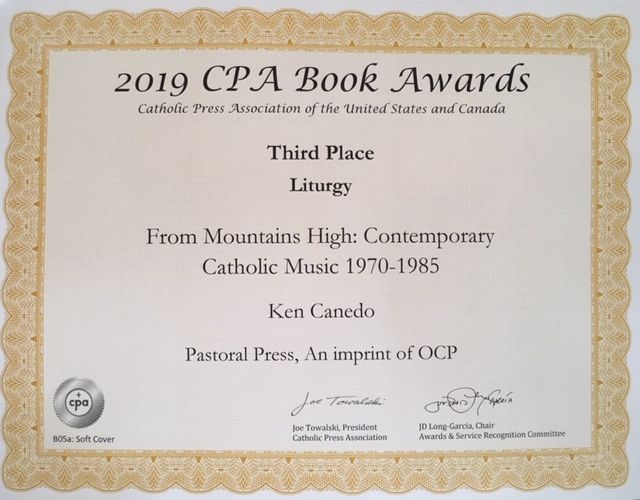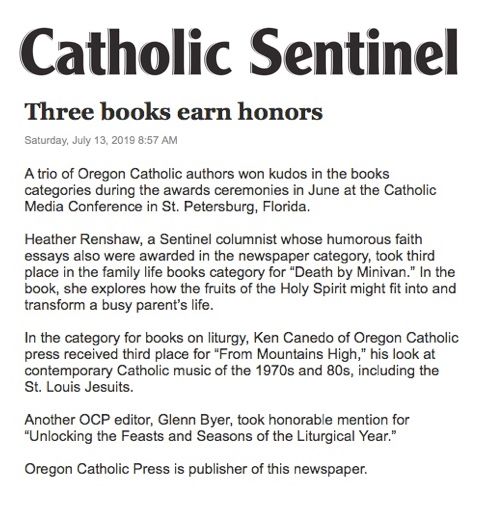 FROM MOUNTAINS HIGH: Contemporary Catholic Music 1970 - 1985 
by Ken Canedo 
(Pastoral Press: 2018) 
The story continues! A history of liturgical music after the Second Vatican Council. 
From Mountains High examines the expansion of liturgical music through the 1970s and early 1980s. It follows the artists that shaped our view of hymns and worship songs, chronicles the rise of NALR, as well as OCP, GIA, WLP and the National Association of Pastoral Musicians, and examines the interaction between mainstream culture and the cultures within Christianity. 
This volume of Catholic liturgical music's history begins after the challenging rollercoaster ride that was the 1960s. Ken had outlined the changes that would be made, both stylistically and culturally, in his first book, Keep the Fire Burning. In that turbulent decade, young people would begin to gather in massive quantities, modifying and reinventing worship music. The counterculture would spread to every corner of society. And after all the 'radical' movements, after all the earth-shaking changes that stemmed from the Second Vatican Council, the liturgy would come out revitalized on the other side. Yet, one question remained on the minds and in the hearts of those who enacted such change: Where do we go from here? 
The decade of the 1970s brought its own unique influences that helped shape culture, politics, education, and liturgy, as reflected in the music of the St. Louis Jesuits, the Monks of Weston Priory, Carey Landry and Carol Jean Kinghorn, Grayson Warren Brown, John Michael Talbot, Bob Hurd, Marty Haugen, David Haas, and the numerous composers who helped shape Hispanic music ministry. 
"Ken makes each chapter seem like a fireside chat with a publisher, composer, or storyteller."
-Foreword by Dr. Elaine Rendler-McQueeney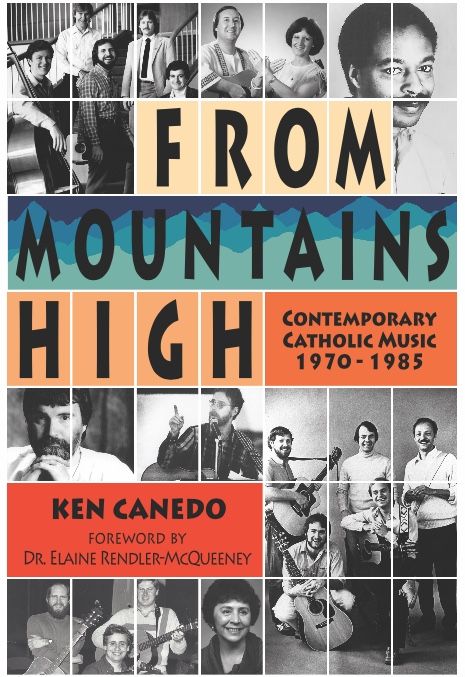 KEEP THE FIRE BURNING: The Folk Mass Revolution 
by Ken Canedo 
(Pastoral Press: 2009) 
Keep the Fire Burning is the forgotten and untold story of the Folk Mass. The influence of this movement is still felt today in the Catholic liturgical industry and in contemporary Christian music.
This fascinating book examines the place of the Folk Mass in Church history. Was it a well-intentioned but failed attempt at updating worship? Or was it a genuine movement of the people?
This highly readable book is filled with stories and reflections by such Folk Mass composers as Ray Repp ("Allelu"), Jack Miffleton ("Alle, Alle"), Sister Miriam Therese Winter ("Joy Is Like the Rain"), Carey Landry ("The Spirit Is a-Movin'"), Sebastian Temple ("Prayer of St. Francis") and many others.
Keep the Fire Burning is both a detailed overview of the influences that led to the Folk Mass and a fond remembrance of a colorful era in the Catholic Church. A wonderful read, this book should be part of any Catholic library.